WELCOME TO ASSOUFID GOLF CLUB
The must play golf course in Marrakech
Our story : Keeping it natural.
ASSOUFID GOLF CLUB 18-hole golf course opened for play on October, 2014.
The course winds its way through naturally undulating terrain in the lee of snow-capped Atlas Mountains, 20 minutes from the old town (Medina) of the vibrant city of Marrakech. The fruit of Niall Cameron's design vision is a desert-style 6,440 m (7,042 Yard), par-72 golf course that blends seamlessly into the natural landscape and takes into consideration its environmental impact through minimal water consumption and the preservation of native plants and trees.
ASSOUFID GOLF CLUB
a compelling course, designed by Niall Cameron
Golf Course
Set against the backdrop of the snow-capped Atlas Mountains, Assoufid Golf Club's 18-hole, par-72 golf course winds its way through a unique, naturally undulating desert landscape.
Located 10 km from Marrakech's Medina – a UNESCO World Heritage site, Assoufid Golf Club provides golfers with an exceptional golfing experience that is excitingly diverse and challenging.
Design
As his first golf course design project, Scottish designer and former European Tour player, Niall Cameron, had the vision to create a desert-style golf course that would look and feel as natural and as integrated into the existing landscape as possible, while maximizing the beautiful views of North Africa's Atlas Mountains to the south.
Nature
Assoufid Golf Club recognizes the importance of protecting and enhancing its natural environment, in which only 45% of the golf course was planted to minimize water consumption. During construction, a significant number of trees found growing on site were retained, and many more have since been planted, including palm trees, cacti and olive trees.
"Kindly move your cursor over the hole number in this interactive map for a hole-by-hole description."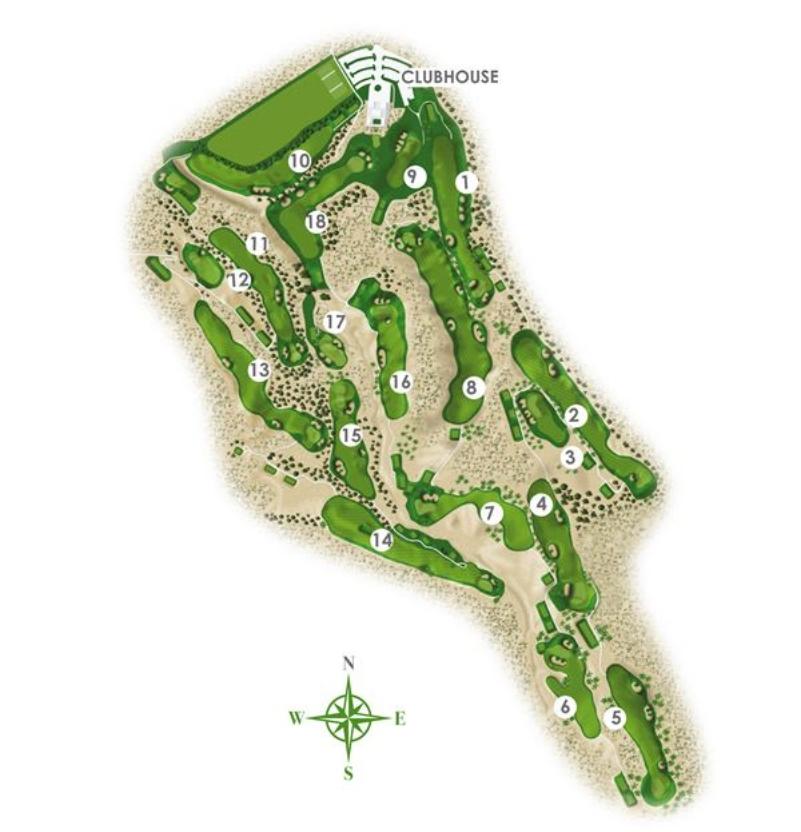 1
HOLE 1:Par 4
A par 4 with a delicately arched fairway, facing south. There is a commanding view of the Atlas Mountains
2
HOLE 2:Par 5
This is a long straight par 5, that requires both distance and accuracy from the tee. A well placed second shot will allow access to attack the flag.
3
HOLE 3:Par 3
The first of the par 3's is no slouch. A long kidney shaped green tapers off to the right on this long par 3.
4
HOLE 4:Par 4
Long par 4 uphill, downwind, featuring the Atlas Mountains in all its splendor.
5
HOLE 5:Par 4
An inviting tee shot is followed by an uphill second towards the mountains.
6
HOLE 6:Par 4
Short 'risk and reward' hole. Long hitters can attack, but take care, the longer you go, the narrower it gets.
7
HOLE 7:Par 4
Impressive dog leg to the left, your second shot must carry over a desert zone. The green is big, but don't miss it left or long.
8
HOLE 8:par 5
Long par 5 dog leg to the left with an ample fairway, providing a safe progression to attack a small green which is well protected.
9
HOLE 9:Par 3
Do not get us wrong: it's short and downhill, but miss the green and you will be faced with a difficult up and down.
10
HOLE 10:Par 4
Although not a long hole, the second shot is all carry over a dry river (shaaba). A poor drive may mean eating some humble pie and lay up.
11
HOLE 11:Par 4
Scenic gentle dog leg to the right, plenty of room on the left from the tee.
12
HOLE 12:Par 3
Against the prevailing wind but slightly downhill, a gentle slope from the right can offer a friendly kick.
13
HOLE 13:Par 5
Reachable par 5 with a beautiful second shot from a slightly elevated fairway.
14
HOLE 14:Par 5
A demanding test. Accuracy from the tee is a must on this split fairway. Right is good, left is fine, but don't go straight!
15
HOLE 15:Par 4
Visually very intimidating and the view is wow from the tee. But don't despair – there is plenty of room on this attractive dog leg to the right.
16
HOLE 16:Par 4
What you see is what you get. A short par 4 with a premium on precision approach to this elevated green with little depth.
17
HOLE 17:Par 3
This tricky shot over the shaaba is our signature hole! Stunning panoramic views from the elevated tee. Distance control a 'must' to avoid the bunkers in front and behind the green
18
HOLE 18:Par 4
A generous fairway awaits you on this dog leg to the right. The uphill second shot is in an avenue of olive trees.
ASSOUFID GOLF CLUB
Our awards
ASSOUFID GOLF CLUB is a real marvel! Since its inauguration in October 2014, this 18-hole course has not ceased to win the most prestigious and prominent awards:

World Golf Awards 2014
"Africa's Best Golf Course"

World Golf Awards "Morocco's Best Golf Course"

Leading Courses "Best Golf Club in Morocco"
2019
World Golf Awards "Africa's Best Golf Course"
2016 – 2017 – 2021 – 2022 – 2023

IAGTO "Morocco's Best Golf Experience" 2020
ASSOUFID GOLF CLUB
is also…