WELCOME TO ASSOUFID
The must play golf course in Marrakech
Resting at the foot of the Atlas, the ASSOUFID GOLF CLUB is an enchanting spot where you will cherish your favorite sport. This compelling golf course, located a few Km from the city center of Marrakech, allows you to exercise intense activity in a pleasant ambience.
Being one of the best golf courses in Morocco, ASSOUFID GOLF CLUB invites you to enjoy a few hours surrounded by nature to unwind and stir intense sensations.
Situated on the crest of one of the high points of Assoufid's undulating terrain, the Assoufid Clubhouse offers a stunning panoramic view over the Atlas mountains and the golf course. Such views in a tranquil environment are a rarity in the Marrakech and Assoufid enjoys one of the finest.
Open daily from 07:50 the CLUBHOUSE in Marrakech consists of a Pro shop/ Reception, Bar/Restaurant, Terrace, Changing rooms and a member's lounge.
Besides being a pleasant and functional facility to host golfers, the CLUBHOUSE in Marrakech is an ideal location to host events such as parties, weddings and similar events.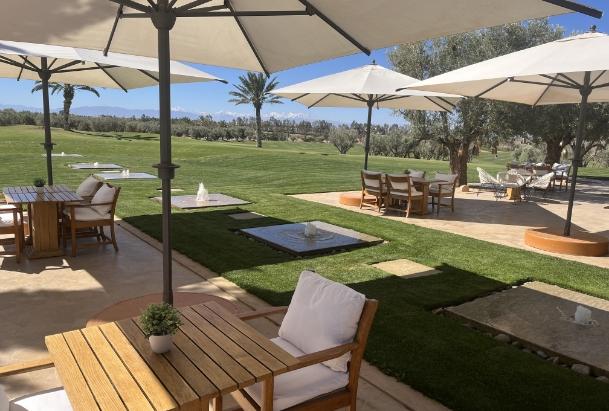 Bar-Restaurant
With elegant indoor and outdoor terrace seating areas, Assoufid Clubhouse offers a variety of exquisite starters, main dishes, salads and drinks served throughout the day from award winning Chef Noureddine El Gouddami who changes the menu on a regular basis with choices to entice international palettes. Assoufid Clubhouse welcomes golfers and non-golfers alike.
The Assoufid Clubhouse restaurant is run by our restaurant Director Oussama Farnada. To book, call us at : 05 24 37 48 00, or contact us by email : golf.restaurant@assoufid.com.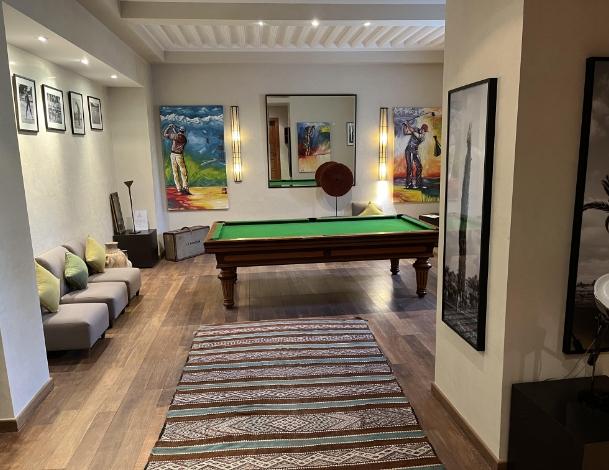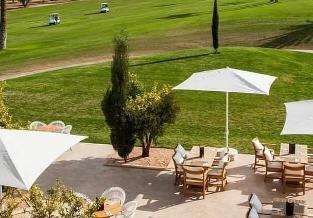 Members lounge
The Members Lounge is a designated private area within the Clubhouse that is exclusive to Assoufid Golf Club Members with a serene and relaxed private environment which may also be used as a space to meet and interact with other Club Members. The Members Lounge is equipped with a snooker table.
Your Pavilion to cater all your private and business events
Assoufid Golf Club's Private Pavilion is an exclusive facility adjacent to the CLUBHOUSE in Marrakech from where individuals or corporate guests can host small, private events for up to 15 people. Features of the Pavilion include a large lounge, kitchen, outdoor pool and garden patio area.
Full catering can be provided for guests via the Clubhouse.
PRO-SHOP
Assoufid Golf Club's Pro Shop sells a variety of high-end golf merchandise from globally recognized brands, including apparel, golf accessories and golf equipment. The Pro-Shop also serves as the reception area for guests and members who will receive a warm welcome arriving at Assoufid Golf Club, Opening hours are from 7:15 – 18:00, but may vary depending on season.